26 February 2023
There are so many exciting and enjoyable activities to fill your days with on Islay.
At Persabus Pottery we offer 'creative days out' on Islay.
Great Days Out, Islay Style
To really make the most of your time on Islay have you considered popping along to the pottery at Persabus for a creative experience? On Saturday afternoon a party of fifteen arrived at the pottery, 'a coach party'.
Coach parties, Persabus Pottery style
and we encourage you to hop on one of our local Mundells' buses, or coaches. They run between all the main villages on Islay. Just hop off at the village of Keills. The friendly drivers will keep you right.
The pottery is just a short walk up the single track road from Keills. I will be waiting to offer you a warm welcome and at Persabus you can indulge in an afternoon of creative fun. Bringing along a bottle is desirable, especially if you are celebrating, and if you have come on the bus it means no one has to worry about driving.
At the pottery we cater for everyone, and that includes you, whether you choose to come with a group, or on your own. There is always a welcome. Do give us a call to book if there are a few of you, that way we can make sure there is room.
If the weather is warm I will definitely be encouraging you to take a seat outside. You can enjoy capturing the magical views of the vista, as spectacular views of the Sound of Islay and the Paps of Jura unfold. We have amazing views for you to enjoy at our little pottery.
You don't need to be oozing with creative talent, or feeling very arty.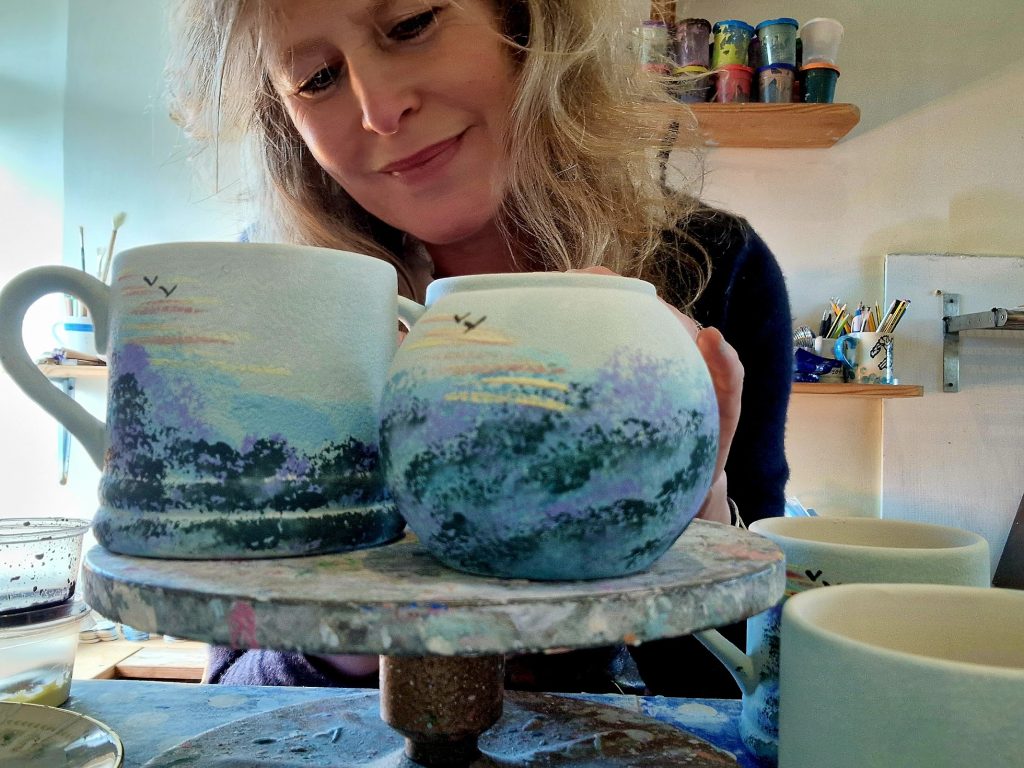 I am usually on hand to guide you through the process. My workshops involve sharing tips and techniques. There are lots of options, so many styles to choose from and variations to explore. From sponging techniques, to creating patterns with leaf prints. Painting with water colour effects. With so many colours on offer you are going to enjoy the process.
At the end of the session, you can then hop back on the bus.
If you happen to be one of our lovely guests, your cottage is on site! Enjoy those views. Watch the pinky glow of the sun setting across the Paps of Jura.
A very warm welcome awaits from all of us at Persabus, and from the friendly drivers on the Mundell's buses!
Get in touch