12 May 2023
Another hidden gem waiting to be explored is Islay's beautiful Bridgend Woods. It's a great place to take the kids, and dogs, along with buggies and prams, especially if it is a windy wild day. The woods provide the perfect shelter. A fantastic place for exploring and enjoying adventures.
Nestled in the very heart of the island at Bridgend, the woods are a fifteen minute drive from the farm at Persabus, so very handy if you are staying with us.
Bridgend Woods Carpark and Islay House Square
The carpark is on the right as you approach Bridgend. Just at the entrance to Islay House Square. If time allows definitely head along to the Square. It has some fabulous artisan craft shops. Here you will find Islay Gin, Islay Quilters, M A MacKinnon's, and Islay Studios, as well as Ben Shakespeare Photography, and Islay Laundry Services, and more.
Accessing Bridgend Woods
The entrance to Bridgend Woods, is just across the main road. Watch crossing the road, as it can be busy, with cars travelling quite fast. Head through the white gate and you will soon be walking through the most magical woodland.
Enjoy strolling through a sea of white snowdrops, beneath the trees, in January. As Islay welcomes the winter months in spectacular style. Later, daffodils rise out of the ground, welcoming the spring, around Easter time. My favourite is when those bluebells take over in May and June, leaving their sweet scent lingering in the air.
Follow the Rover Sorn
Wellies are only necessary if it has been a particularly wet few days, or anyone is wishing to paddle in the ditches. The track is very easy to walk on. Dogs love the woods, and there's plenty of opportunities for them to indulge in swimming and retrieving balls. It is very popular with local dog walkers.
Follow the beautiful River Sorn as it twists and winds through the woods, and don't forget to indulge in a game of 'Pooh Sticks' at the bridge. Handily there is a bench here too, allowing you to sit back and enjoy the day.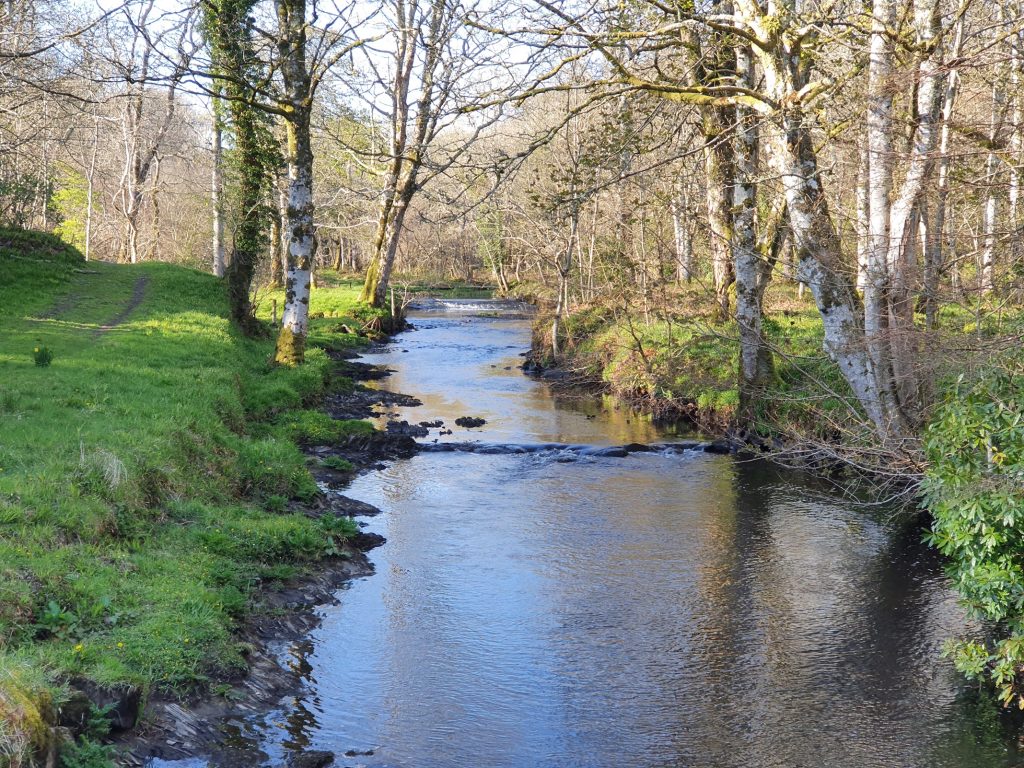 Tracks that lead to adventures
There are lots of different routes and tracks to explore in the woods. They lead to Islay Woollen Mill and beyond. In the other direction you can head to The Bridgend Hotel, and pop in for a light refreshment or bar lunch. Or pop across the road to Bridgend Stores at the end of your walk, and enjoy an ice cream on the bench if it is a hot day.
Enjoy a Farm Stay
There are so many exciting things to see and do on Islay, check out our useful guide here. Or why not come and stay with us on our farm at Persabus and experience island living first hand. With a variety of accommodation options on offer, in the beautiful setting of a Hebridean Farm, we are sure you will feel right at home in one of our cosy cottages, or stay in the traditional Farmhouse Bed and Breakfast Suite.
A warm welcome awaits.
Get in touch